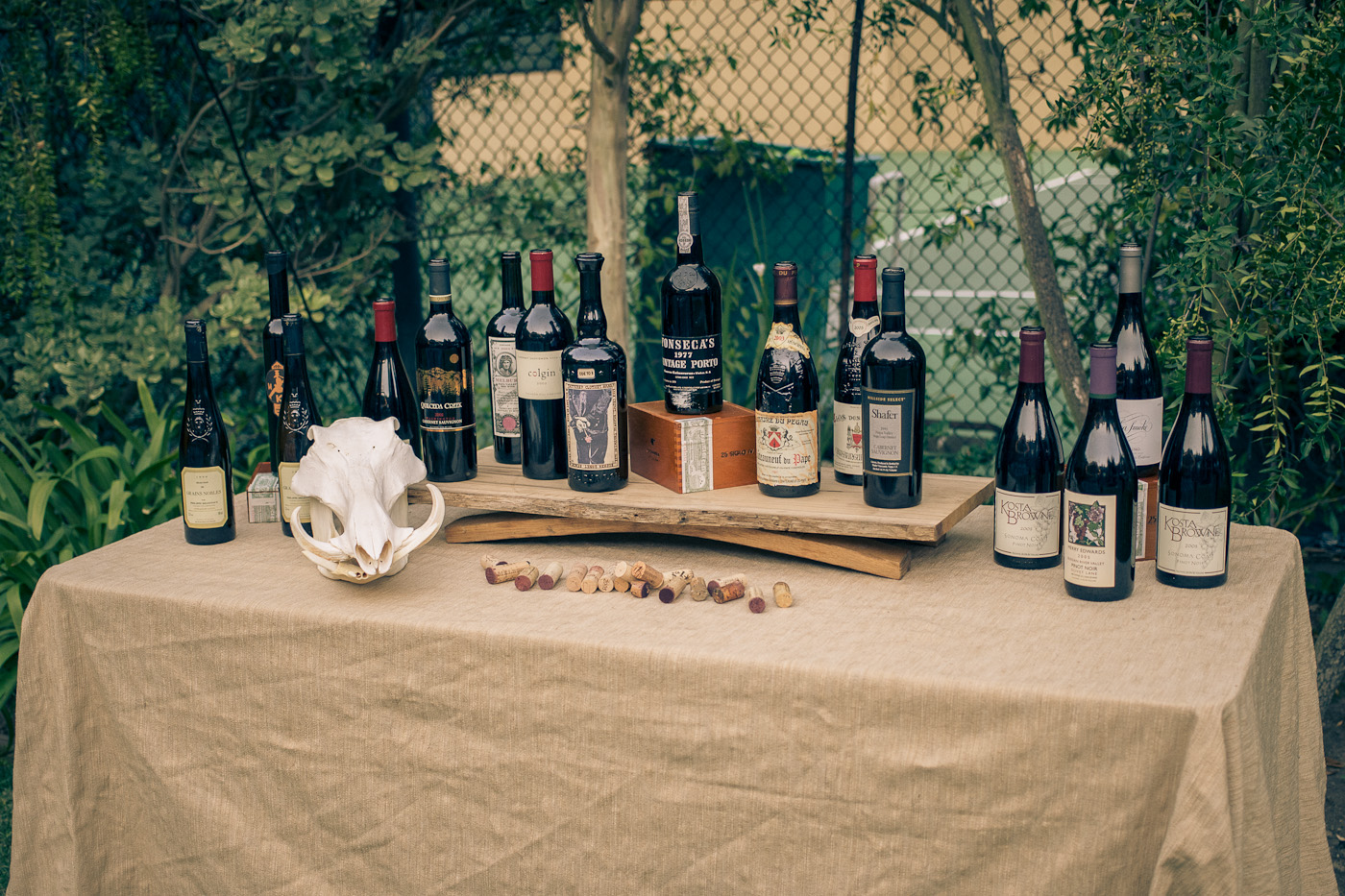 Les Deux II – Steak & 100 Pt Wine Party
Though topping last year us tough, we tried to up the anty in 2012: more red meat, and more of the best wines in the world. Everyone pitched in, and we bought deep, and wide: Bond Melbury, Colgin Estate Red and Syrah, Pegau, Clos des Papes, Sine Qua Non, '77 Fonseca, the works. Here's the full menu:
Here's the full menu;
Horizontal Tasting of California Pinots 2005 A.D.:
Merry Edwards "Olivet Lane" Russian River Valley Pinot Noir
Kosta Browne Sonoma Coast Pinot Noir
Sea Smoke "Southing" Sta. Rita Hills Pinot Noir
Kosta Browne Russian River Valley Pinot Noir
Classic Cabernets from 1995 – 2004:
Shafer "Hillside Select" Stags Leap District Cabernet Sauvignon 1995 – 99 points
Quilceda Creek Cabernet 2002 – 100 points
Bond "Melbury" Napa Valley Red Blend 2004 – 97 points
Colgin Cabernet Sauvignon Tychson Hill Vineyard 2002 – 100 points
Rhone Blends, Old World vs New World:
Sine Qua Non Ode To E Grenache California 2004 – 100 points
Colgin Syrah IX Estate 2006 – 95 points
Domaine du Pegau Chateauneuf du Pape Cuvee Reservee 2003 – 99 Points
Clos des Papes Chateauneuf du Pape 2005 – 98 Points
Sweet & Sticky:
Nairac Barsac 2001 – 100 points
Sine Qua Non Mr K The Nobleman 2001 – 97 points
Fonseca Vintage Port 1977 – 100 points
Delesvaux Selection de Grains Noble 1999 – 99 Points
Selection of homemade pates, roasted bone marrow, elk tartare all served alongside toasted, fresh baked bread, as well as
Roasted duck with blackberry and plum sauce. Slow-smoked brisket, au jus. Savory bread pudding with smoked bacon & mushrooms, caramelized onions, Quebecois 5 yr cheddar. Selection of 4 different dry-aged steaks, including Angus, Piemontese, Murray-Grey, and Buffalo.
Our own, self-distilled, housemade Grappa
.